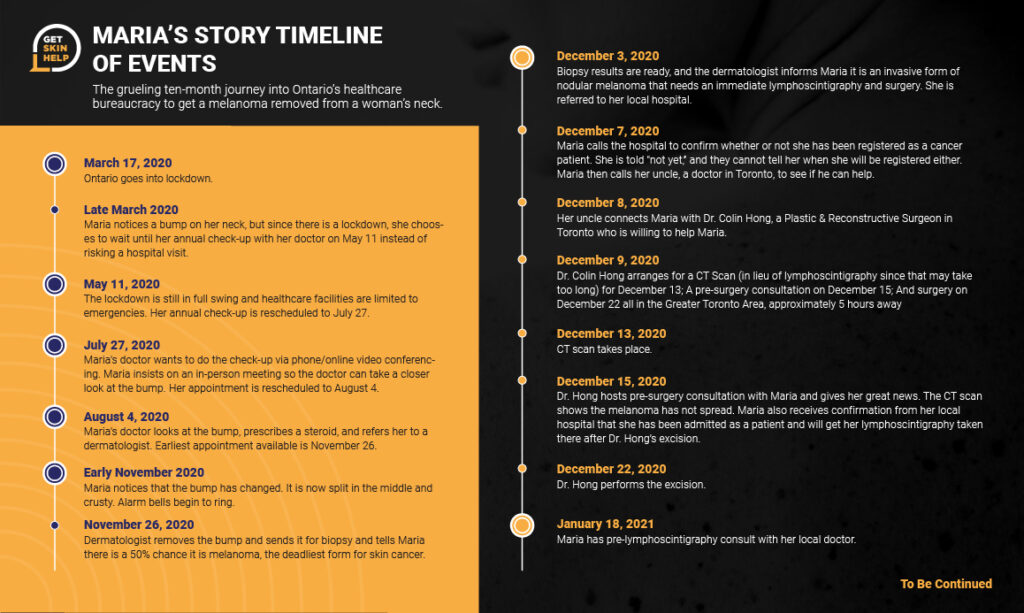 You can read Part 1: The Bump here
You can read Part 2: Collateral damage from the Coronavirus here
You can read Part 3: Delays, misunderstandings, and a lackadaisical attitude here
You can read Part 4: Bureaucracy run amok here
In 2020, Maria, a mother of four living a suburban life, was met with a life altering medical diagnosis.
Skin cancer.
We invite you to read Maria's cautionary tale two centimetres which is about her journey through the healthcare system to rid herself of a malignant tumour that was hiding in plain sight. We go deep into the bureaucracy and its interaction with people's lives.
Above you will find a detailed timeline of events that demonstrates the obstacles Maria faced during her year-long journey as she became closely acquainted with the minutia and realities of skin cancer.
In Part 1 Maria is held hostage by COVID-19.
Visit www.getskinhelp.com/get-started today and have your suspicious moles or bumps checked virtually.
Share this story and help us raise awareness about skin cancer.